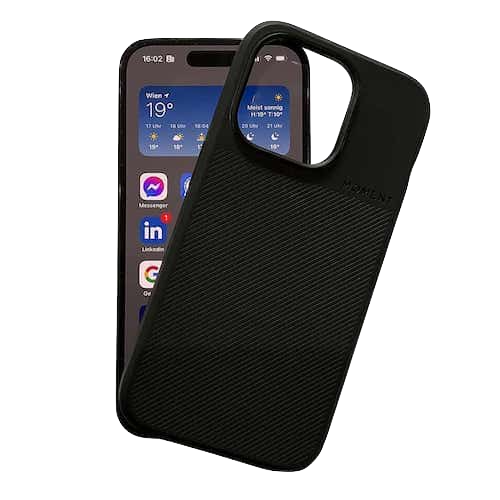 If you own an older iPhone model, you can still get either the rugged or thin case, for e.g., the iPhone 13 or iPhone 12.
So, why do I use and recommend a Moment Photo Case?
Features of the Moment iPhone 14 Case
Material of the Moment Case
The Moment case is made of high-strength polycarbonate and TPU that ships in 100% post-consumer recycled packaging. In non-marketing talk: You'll get a rubber case shipped in a recycled paper enclosure.
What I like about the iPhone 14 case is that it's way softer than the previous rugged cases. Thus it's easier to attach and remove.
Moment claims that the iPhone 14 case offers improved drop protection. While the previous moment cases offered a 6 feet drop protection, the new iPhone 14 cases provide a 10 feet drop protection.
I've "tested" the drop protection a few times with my old iPhones and old Moment cases; e.g., I dropped the iPhone inside the case on a wooden floor: Neither the iPhone nor the floor is damaged in any way.
Lens Mount for Moment Lenses
Moment changed the mounting system for their lenses a few times since the original case. Since iPhone 12, Moment uses a drop-in lens mount that you can add to the Moment case if you still use the Moment lenses.
The drop-in lens mount is a piece of plastic that you attach to your case. But I wouldn't call it a drop-in lens mount rather than a press-in lens mount because you need to use force to attach the lens mount to the case. But once it's attached, it feels securely attached to the case.
You have to attach the lens mount from inside the case. So, once you've attached the case to your iPhone, there's no way that the lens mount and the case suddenly become disconnected.
Note: You must purchase the lens mount separately. So don't forget to add it to the cart in the Moment Online Store.
The Moment Photo cases ships with a non-lens-mount frame, and you'll have to remove that frame first to attach the lens mount.